First you will want to register a Super Forms account. You can do so by following the below steps
Step 1: Downloading, installing and activating the plugin:
Login to your WordPress site with the latest version (super-forms.zip) of Super Forms installed and activated by uploading the .zip file via "Plugins > Add New" from your WordPress menu.
Now navigate to Super Forms > Licenses from the WordPress menu.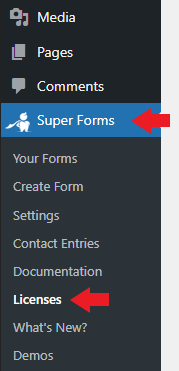 Step 2: Registering a new account:
Register a new Super Forms account (or login if you already created one):
Step 3: Confirming your E-mail address:
Upon registering, you will first have to confirm your E-mail address by clicking on the link that you received (also check your spam).
If for whatever reason you didn't receive the verification email, please submit a ticket.
Click the link, and enter the verification code in order to activate and use your account as seen below.
3.1 - Starting a 15 day trial (optional):
Now login with your account. Depending on your situation you can start a 15 day free trial, enter an existing license that you already own. Or purchase a new license:
To start a 15 day trial, simply click "Start 15 day trial":
3.2 - Activating an existing license:
* To activate the plugin with an existing codecanyon.net license, select "Yes", enter the license and click "Activate plugin":
3.3 - Purchase a new license:
To purchase a new license, click "No" and select the plugin or Add-on that you'd like to purchase. Then choose your plan "Yearly" or "Monthly" and choose your preferred payment method: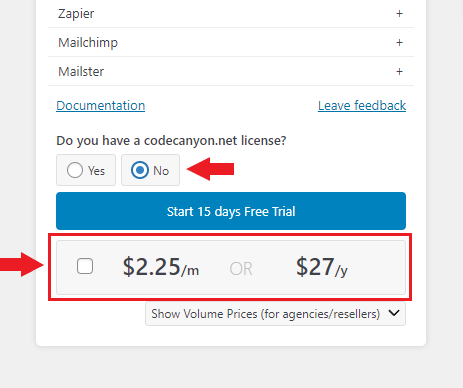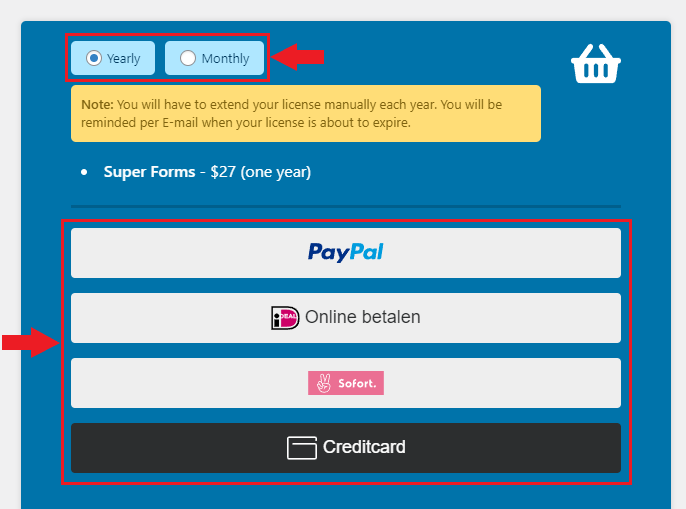 After your payment has been processed, the plugin will be activated.
3.4 - Envato Elements licenses:
* Envato Elements users will have to submit a support ticket with their licenses attached in order to be able to use their license to activate the plugin.