First you will want to register a Super Forms account. You can do so by following the below steps
1 - Downloading, installing and activating the plugin:
Login to your WordPress site with the latest version (super-forms.zip) of Super Forms installed and activated by uploading the .zip file via "Plugins > Add New" from your WordPress menu.
Now navigate to Super Forms > Licenses from the WordPress menu.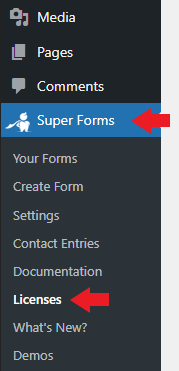 2 - Registering a new account:
Register a new Super Forms account (or login if you already created one):
3 - Confirming your E-mail address:
Upon registering, you will first have to confirm your E-mail address by clicking on the link that you received (also check your spam).
If for whatever reason you didn't receive the verification email, please submit a ticket.
Click the link, and enter the verification code in order to activate and use your account as seen below.
4 - Starting a 15 day trial (optional):
Now login with your account. Depending on your situation you can start a 15 day free trial, enter an existing license that you already own. Or purchase a new license:
To start a 15 day trial, simply click "Start 15 day trial":
5 - Activating an existing license:
To activate the plugin with an existing license, choose "Yes", enter the license and click "Activate plugin":
6 - How to purchase license(s):
There are two ways to purchase licenses. You can purchase license in bulk, or purchase single licenses. When purchasing in bulk you will have the extra option to choose an extended lifetime (expiry) in years for your license(s). Volume discount will also be applied, which allows you to benefit from extra discounts.
6.1 - Purchase a single license:
To purchase a single license simply select "No" when asked if you already have a license code. Then click the "Add to cart". From here you can proceed to choosing your preferred billing and payment method.
Choosing your billing and payment method:
After your payment has been processed, the plugin will be activated.
6.2 - Purchase licenses in bulk:
To purchase licenses in bulk, simply choose a quantity and the lifetime (expiry) in years. Based on the selected quantity and your currently active licenses a volume price will be applied. An extra additional discount will be applied based on the selected lifetime (expiry) of the license. Please note that your license will not expiry until you actually activated the license on one of your websites.
When you are logged out, you will have to enter your Super Forms email account address. If you do not have an account a new one will be created upon completing the payment. After your payment has been processed you will receive the license codes in your email inbox. You can then enter your license code.